aqua fortis
" AQUA FORTIS "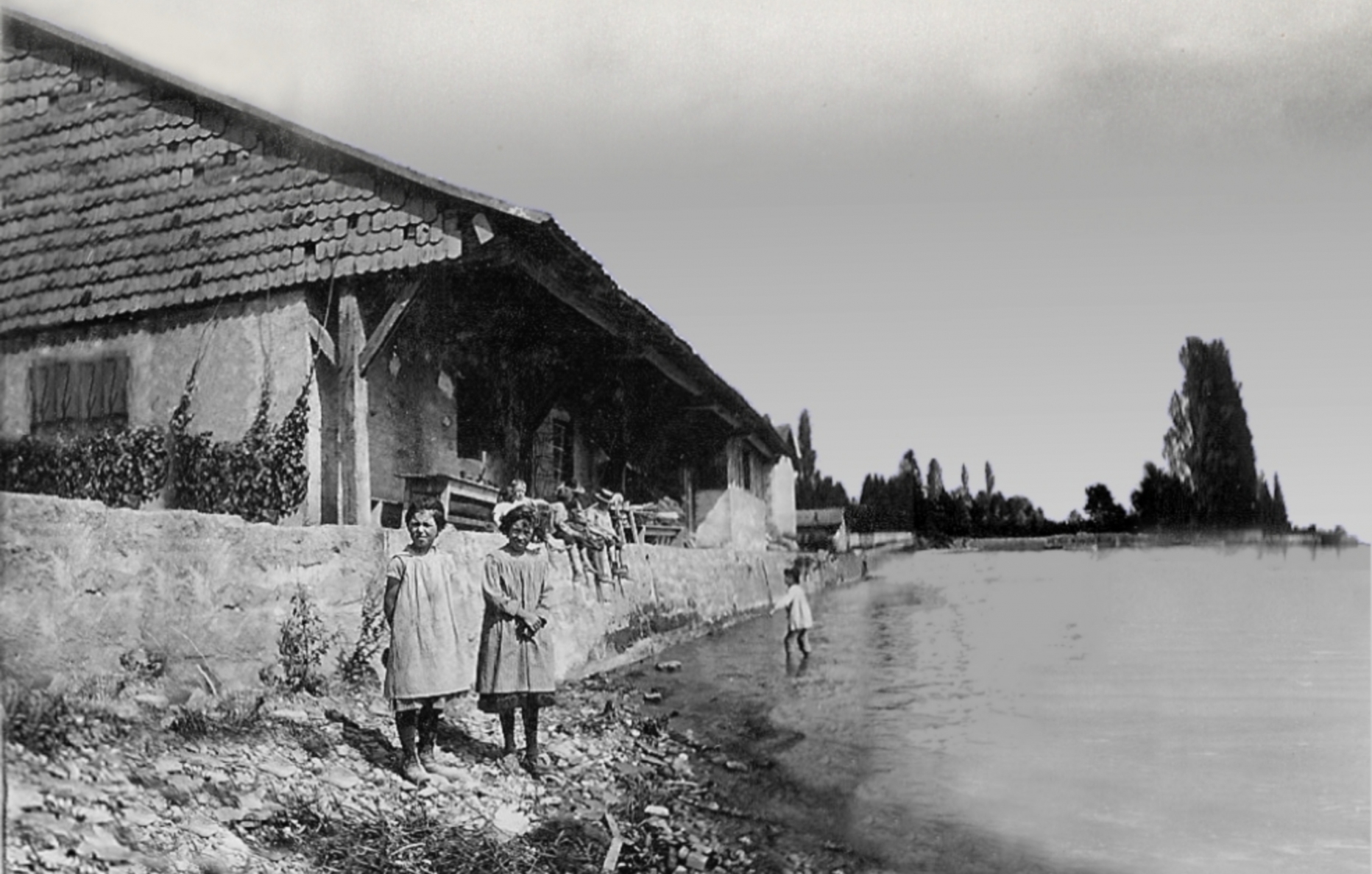 Port Choiseul, around 1890. Old buildings of the Tuilerie
©Patrimoine Versoisien
Lake Geneva's records contain information and documents that are likely to fascinate geographers, enchant climate specialists and amaze hydrologists. In addition to these scientific delights, the lake also feeds the interest of painters, the eye of poets and, perhaps, the thrill of lovers. In any case, its characteristics have always been intertwined with the history of the women and men who have lived in its vicinity.
As a crossroads of communication and a natural border, Lake Geneva's shores have been occupied by human presence since prehistoric times. By centralizing activities and exchanges, it fostered the sedentarization of populations over time. In antiquity, Roman villae flourished, reflecting a stable prosperity that would last for centuries despite religious struggles, economic tensions and wars of conquest.
The impressive population growth of the 19th century transformed the landscape. The way the banks were laid out and developed served a utilitarian navigation, devoted of course to fishing but also to the transport of stones and sand, wood, grains, wine and cheese. This new urbanization responded to the important agricultural and viticultural development of the coast and the inland regions. Until the arrival of railways, villages evolved in connection with pastures, orchards, forests and quarries, turning their backs on Lake Geneva, whose gray and blue waters represented more disadvantages than advantages. Indeed, even if their location sometimes allowed direct access to the lake, the dwellings - whether modest or wealthy, isolated or village houses, homes of masters or peasants - were primarily designed as protection against the black breeze, humidity and cold that disintegrated the walls and corroded the structures.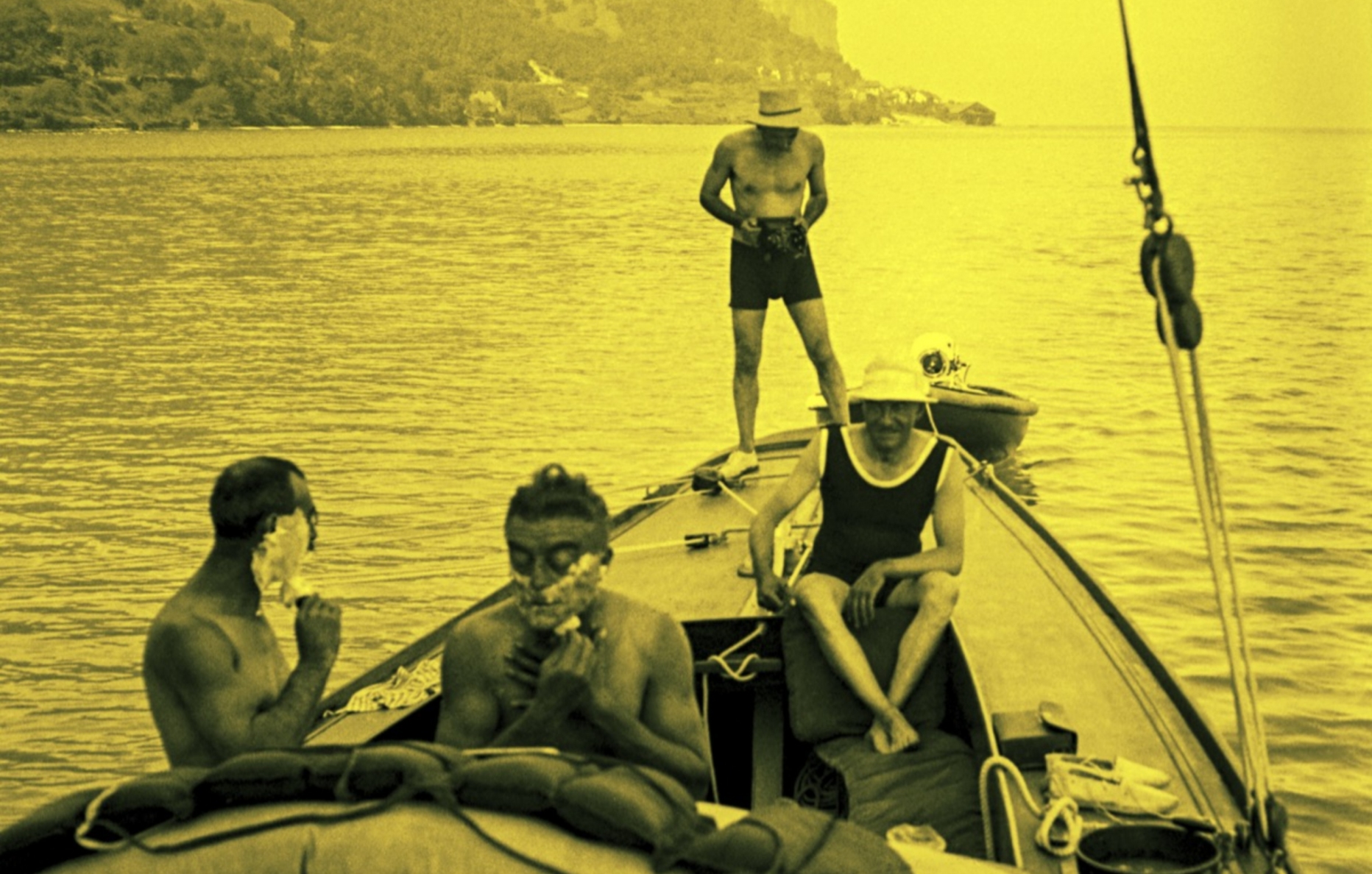 The days of a problematic and potentially dangerous lake gradually died out with the invention of tourism. Thanks to foreigners who visited Switzerland, the exceptional nature of the site was revealed to the local population. This new approach, coupled with emerging industrialization, opened up unprecedented perspectives. Sailing on Lake Geneva became a leisure activity for steamboat passengers, or reserved for a social elite passionate about regattas and sailing competitions. Each city, town, and village developed its quays in order to take advantage of this unexpected windfall. The time came for luxury hotels and fine restaurants. For private individuals, it was also a time for elegant bathing pavilions set above water at the end of superb family estates.
As a recreational place renowned for its aesthetic qualities, Lake Geneva, therefore, became the scene of new and varied operations, literally shifting from useful to pleasant. This reality led to the presence of well-kept buildings on its shores, following in the ideological currents of the time, which combined traditional folklore and patriotism, history and sanitarianism. It was a trend that led to the emergence of a national singularity, identifiable by the affirmation of references specific to the Alpine landscape, with its colors, emblematic pines, sharp peaks and pure lakes. Lake Geneva in itself is now the embodiment of this idealized Switzerland. Having become a landscape, around the turn of the 20th century it began hosting surprising houses whose chalet appearances and surrounding plantations functioned in a mirror-like manner with snow-covered peaks (or not), and an azure sky (or not) reflected in crystal clear waters (or not). A silent role-plays between nature and architecture where the lake still asserts its role as the main, authentic and essential character.