EDEN LAKE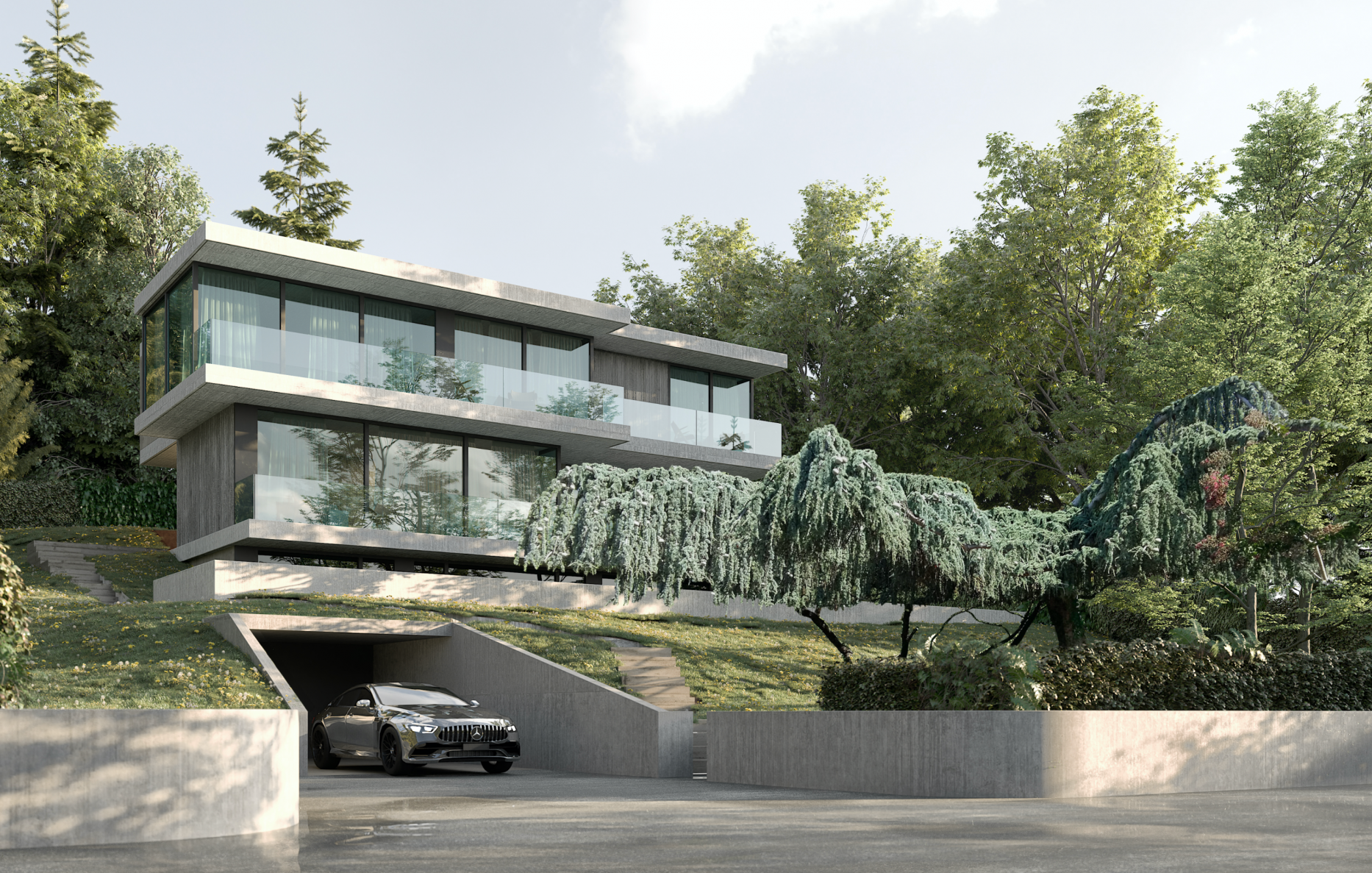 A villa with a Zurich spirit. A piece of minerality whose concrete appears enhanced by the delimitation of a wooded cordon and the development of a mini landscaped park. An open, but intimate home.
To be honest, there are "before and after" projections that are sometimes difficult to imagine. On this piece of land located in colognotary lands, a beautiful green and slightly enhanced district overlooking Lake Geneva, there was previously a house without particular charm, an itou garage with tiles and plaster on the side of the road, as well as a land drowned in a mess of vegetable essences.
The house as a stumbling block
The first idea was to (re)valorize the existing system, while destroying the original buildings. Densify the program by grouping house and garage, condense to the maximum for a minimum implementation, this in order to highlight the strong points of a limited space, cut between multiple properties. The 1,200 m2 site has been cleaned, purified and redacted. It emerges enlarged, surrounded by a wooded cordon that brings tranquility and ennoblement at the same time as a form of intimacy. The existing main tree, which seemed tired and almost irrelevant in this context, was cleared. Valued. It now stands in majesty at the entrance to the property and has integrated a form of landscaped park where the villa appears as the mineral element of the whole.
Between intimacy and extimity
The construction comes to manage the privacy of the premises by itself. Built in height and length, the house is smaller than we would like to imagine. The many dropouts allow us to play with the volumes and suggest this idea of depth. The low walls - which delimit the land and the house - are discreet, they protect from an outside view without preventing any glance. The objective was to propose a sculptural object where there were only local constraints, to create an aesthetically integrated environment, enjoying all the view possible.
A Goldküste spirit in Geneva
The result is a Zurich-style villa, all facing the lake. In order to minimize its impact, it was built on a base that includes a garage for three cars. Access is from the inside, underground, like Bruce Wayne's secret residence. Above, there is a semi-buried level housing the laundry room, a workshop and a fitness room. Protected from view, this mezzanine offers a flat piece of land, combining a swimming pool and an adjoining terrace. It is topped by two habitable levels with a total surface area of 240 m2, including bedrooms, living room, living room and their balconies. The ultimate luxury, all the rooms have large bay windows and glass balconies so as not to disturb the view of the lake and the Jura horizon that overlooks it. The house looks like a sculpture that you can look at, but not touch! Not ostentatious, but a little observatory. And yes, for a little bit, it's like being on the Zurich Goldküste.