Renovation / transformation
LASTING TIMES
Leaning against the road of Switzerland, the property gently inclines to the edge of Lake Geneva. There, at the top of the pretty plot, a singular construction shows for decades its neoclassical expression where pediments, cornices, columns and antique-inspired decor combine in harmonious proportions.

Research shows that this perimeter was historically linked to Tannay Castle, a beautiful 17th-century mansion half a kilometer away. A context that lasted until the 1850s, when the railway line irreparably cracks the area, leaving the lake the lower part and the fields the upstream part. The counting of the archives updates the building's execution file.
Since Januaryy 1930, the documents signed "Leclerc architect" reveal the original assignment and organization of origin: a small bathhouse, capped with a two-sided roof. The marked symmetry of the plan shows a ground floor with kitchen, bathroom, bedroom and living room opening onto a terrace; a basement with side service rooms and, in the center, a boat garage. At the time, the construction located along the shore literally soaks its facade in the waters of Lake Geneva.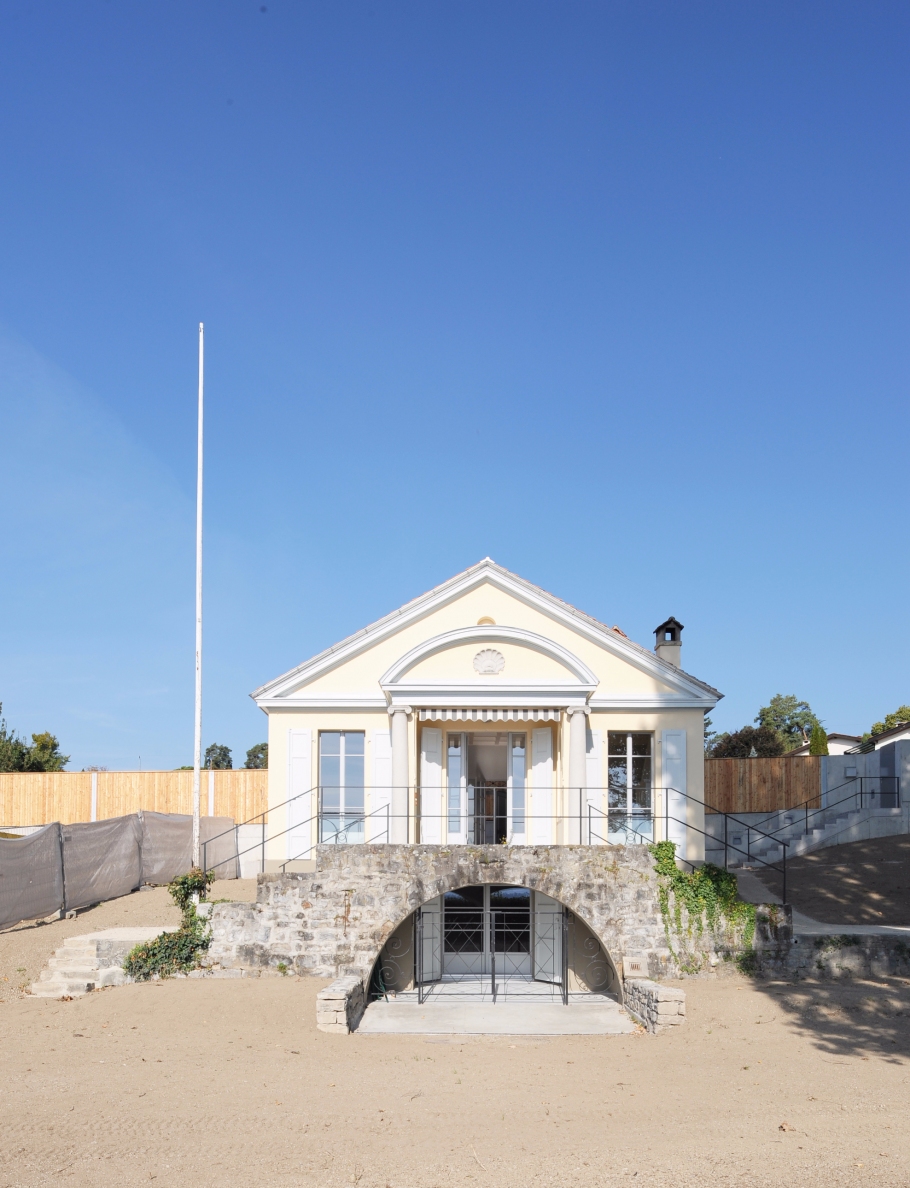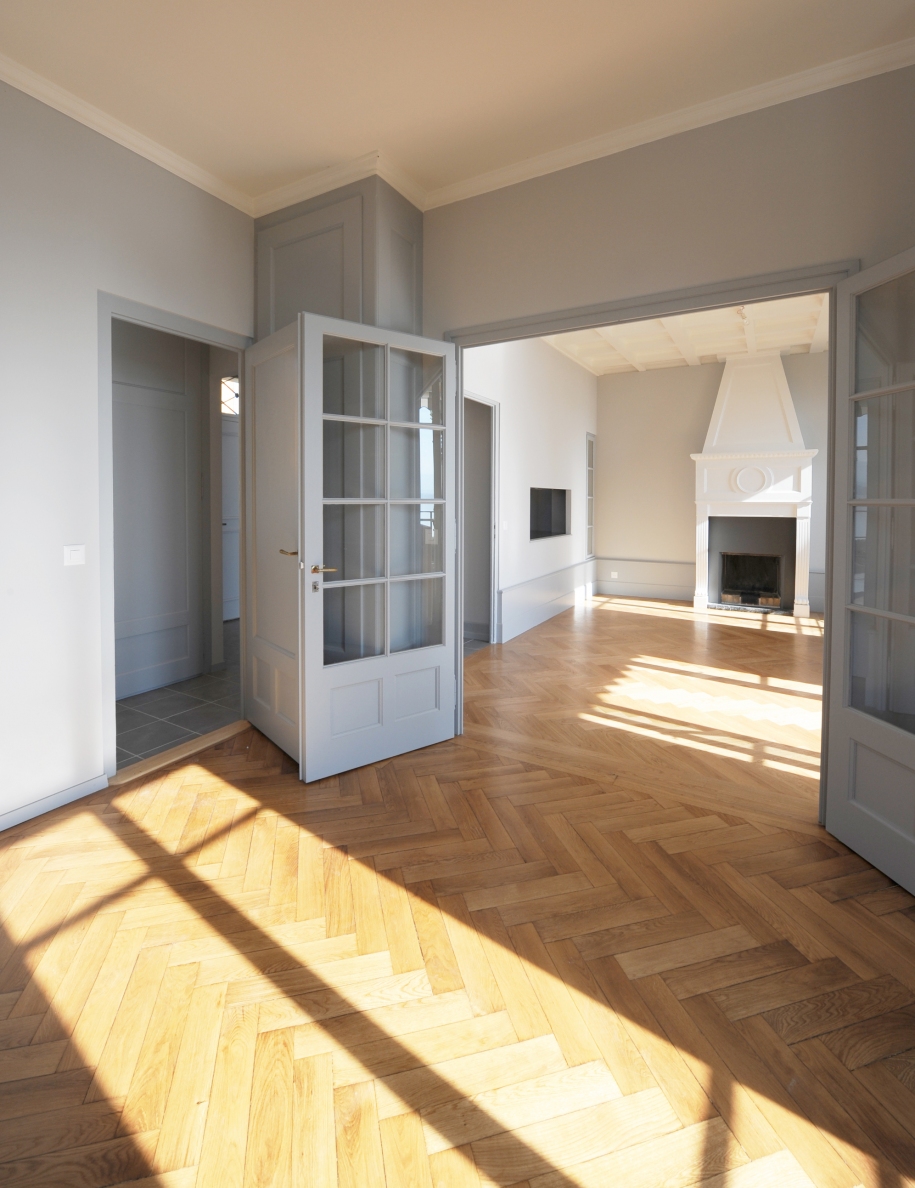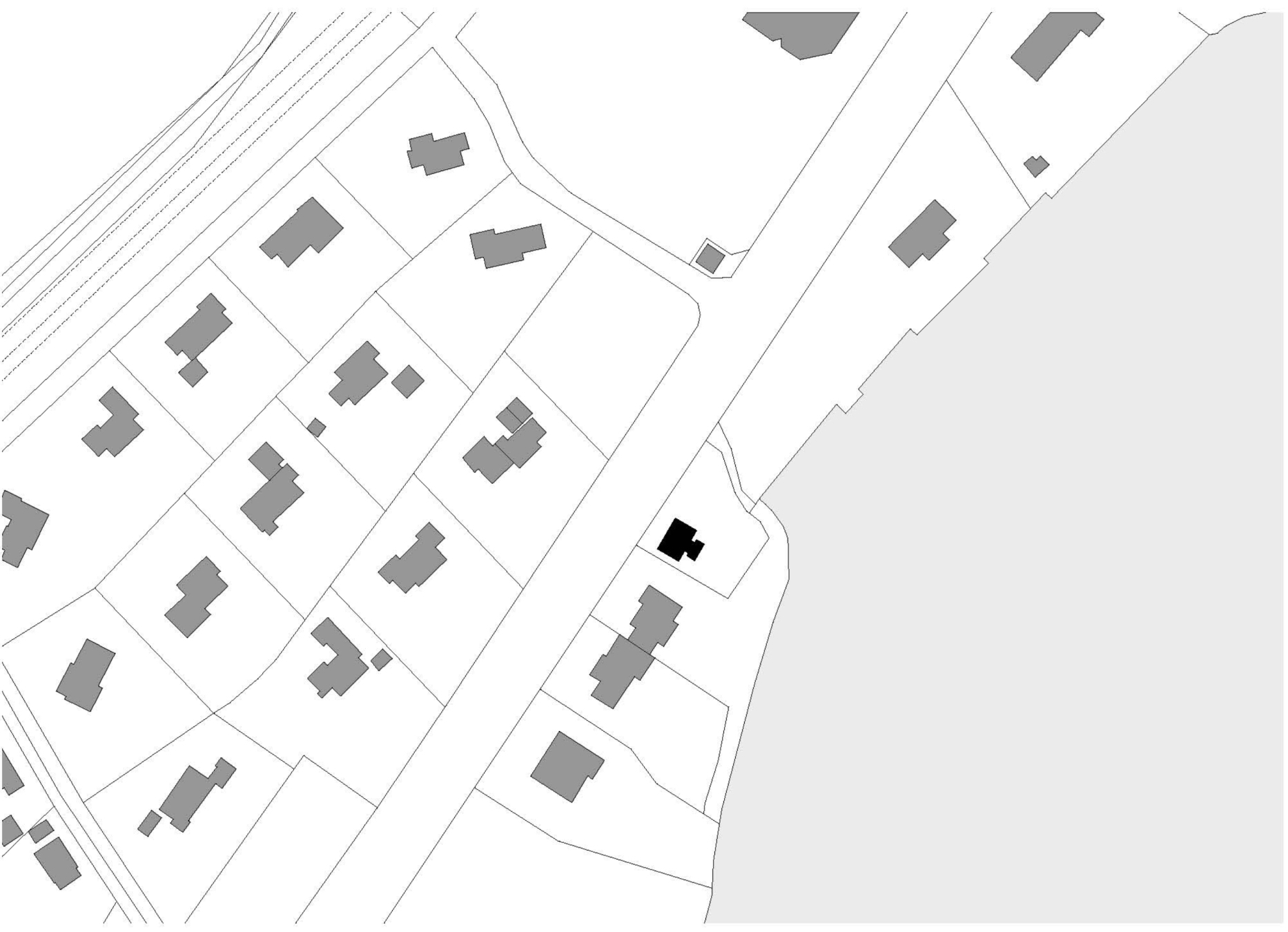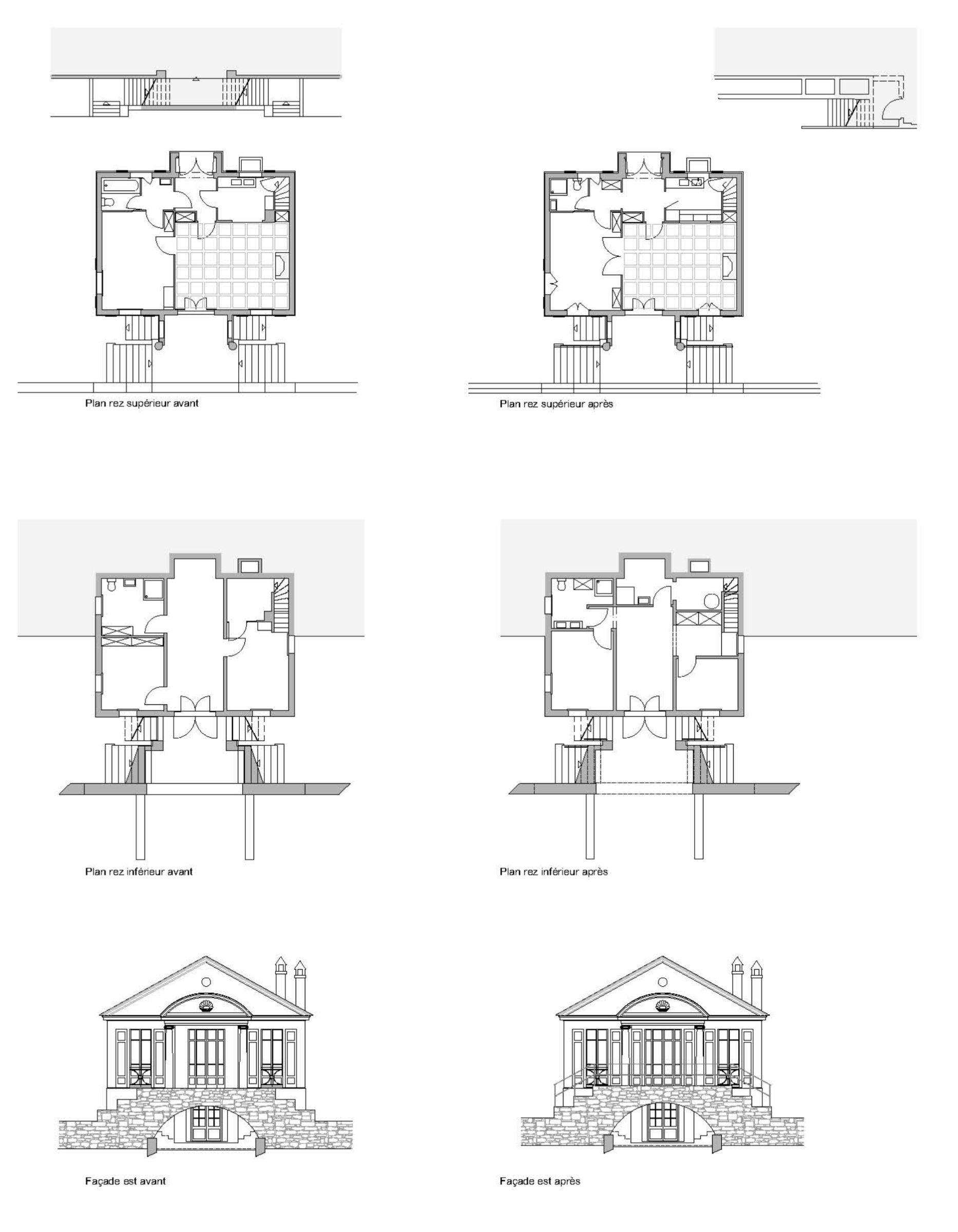 The complete survey of the building shows a substance still largely in place and a physical state without pathology. This statement announces a measured interventionism, able to preserve the heritage elements and bring the necessary comfort to a housing of today. On the ground floor, the living room communicates with the bedroom and the kitchen thanks to the creation of piercings treated in a classic way (glass door) or contemporary (window above the worktop); in the basement, the former boat garage is transformed into an office, flanked by two small bedrooms, one of which has a bathroom.
The original woodwork has been sanded and repainted, the white earthenware water features modern equipment. The floors are covered with a sober gray tile, except in the two large rooms on the ground floor, the old wooden floor has been renovated and completed. The thermal improvement of the house goes through an interior insulation of the walls and the floor of the attic, as well as the installation of insulating glass on restored joinery. A complete raft guarantees the total waterproofness of the whole. On the outside, the pastel chromatic range is respected and new guardrails secure windows, flights of stairs and terrace.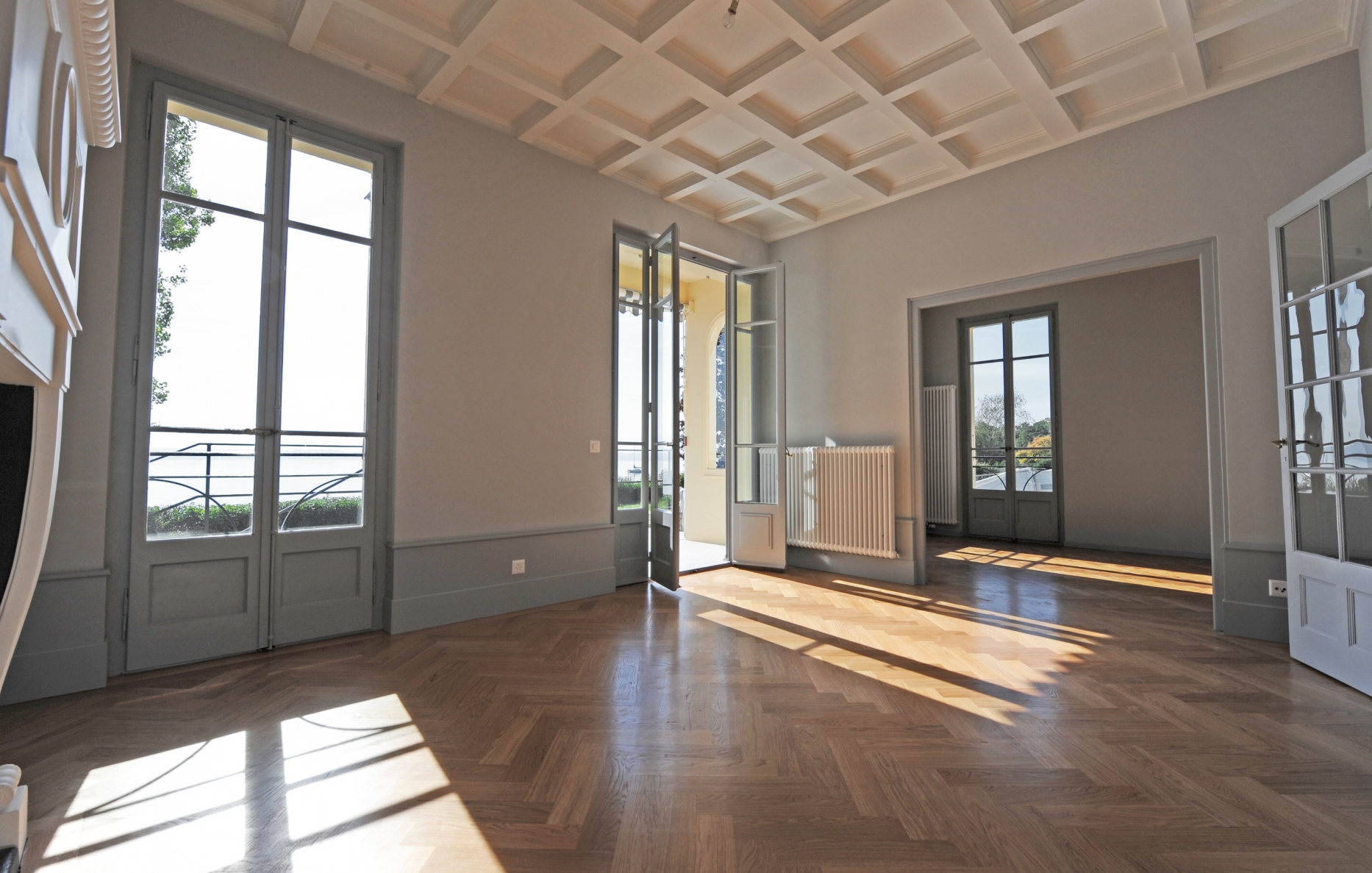 Associating minor adjustments or significant technical improvements, each of the interventions was initially thought in terms of discretion, to limit the visual impact. The new elegance of the building contributes fully to the revaluation of the site. Although of modest dimensions, the former bathhouse throne again on this shore and leaves in the background the two new villas made nearby and the essential noise barrier built along the road.