Associates
Since January 1st 2017, the office has three new associates with complementary profiles.
Their appointment aims to sustain the growth of the office under optimal organizational conditions.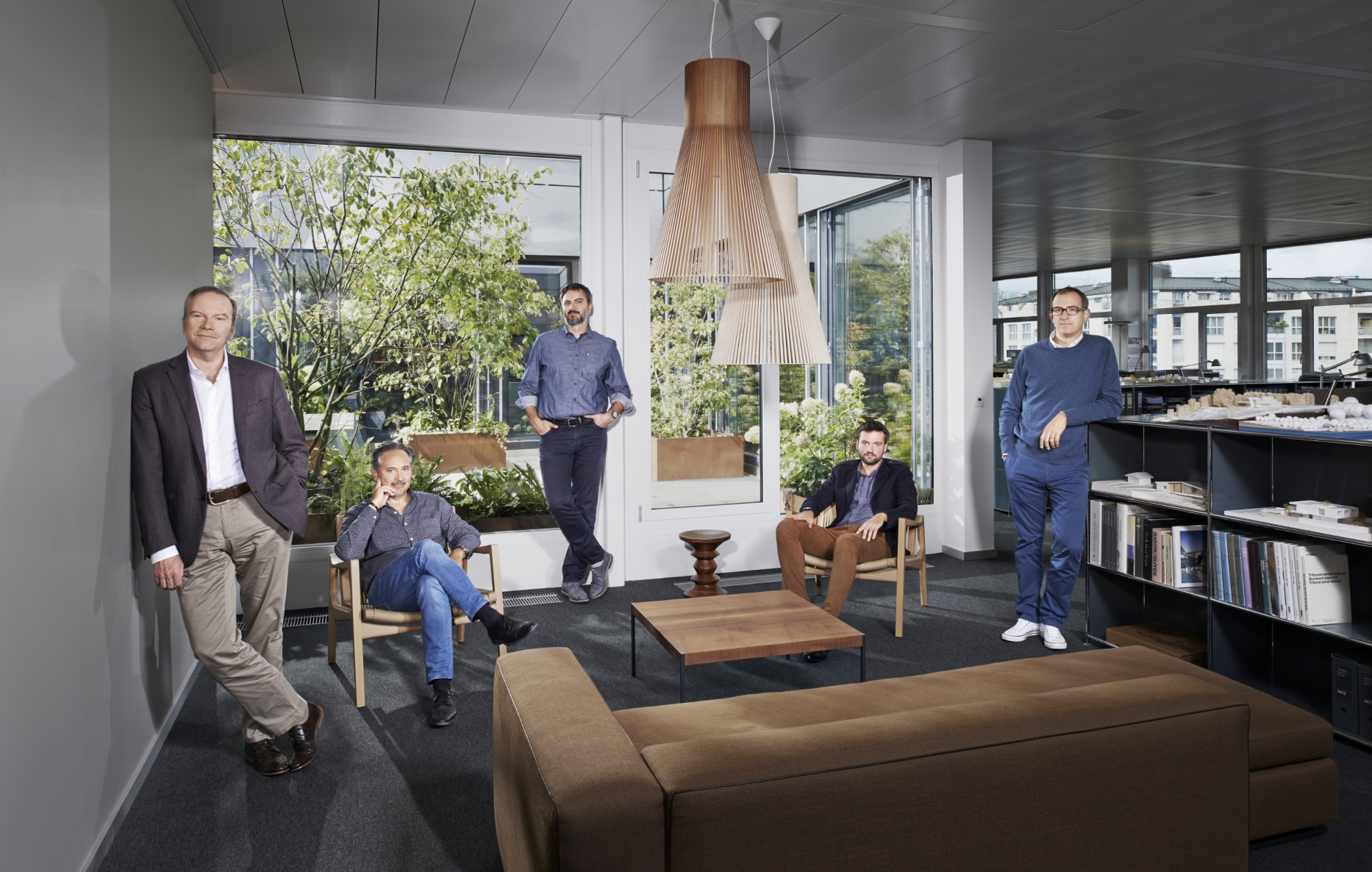 Mvt Architects decided to open a new chapter in its history by promoting three associates. Since January 1st 2017, Alden Miranda, Pierre-Olivier François and Viorel Ionita sit at the head of the office alongside the two historical partners, Benjamin Vial and Gavin Taylor.
The complementary expertise of these three new partners will enable the company to meet the growing demand of its customers in optimal organizational conditions. In continuing its development, mvt intends indeed to remain faithful to the creed which founded its reputation since its creation in 1986: a constant requirement of quality and an absolute respect of the calendars and the budgets.
The need for a plural reflection
After seeing its workforce grow steadily in recent years, the office now has about 40 employees. In 2016, they were grouped together on a single site, at the new headquarters of mvt, in the Nations district in Geneva. Each new partner is responsible for his own team. "These appointments answered several motivations, explains Benjamin Vial. They stemmed from a natural need to associate employees who made a decisive contribution to the development of mvt around the table. On the other hand, as architects, we have a great responsibility to build the environment in which people live, work, sleep and invent. A multi-faceted reflection is necessary to carry out this mission. Opening to different visions and profiles makes it possible to cultivate it. "
Go forward
Alden Miranda joined mvt in 1992 at the end of his studies in architecture at the University of Geneva. This adopted Genevois, who arrived from Chile at the age of 9, specialized in project management. His open-mindedness and his listening skills make him one of the privileged interlocutors of the clients within the office. "Mvt is committed to the plurality of opinions and encourages a permanent challenge that allows us to move forward," says the new partner. It is a chance to be able to invest myself in the development of the company and to participate in defining its destiny. "
Values I identify with
Pierre-Olivier François joined mvt architects in January 2007 after working for a major international construction group. A holder of an engineering degree in Construction Economics and with a great sense of rigor, Pierre-Olivier has more particularly taken over the management of works within mvt. "Becoming a partner is a concrete expression of my desire to become involved in the future of the company," he says. It has values that I totally identify with. We keep our commitments to our customers, our partners and our employees: mvt is a company that does what it says. "
The deep meaning of architecture
Viorel Ionita, for his part, started at mvt in April 2007. Originally from Romania, he studied architecture at EPFL. Particularly sensitive to the issue of well-being in the home, he widened his path in the office by supervising projects while bringing his skills to key areas: communication and marketing, research and development, team management. "Mvt is a company that knows how to evolve in continuity. The association is for me the culmination of a construction started ten years ago. What motivates me on a daily basis is the search for the profound meaning of architecture, of our impact on society as architects ".
Photographies © Daniela & Tonatiu